Barham Down
Notes
This dance was first published during 1701 in the 11th edition of Volume 1 of Playford's "Dancing Master".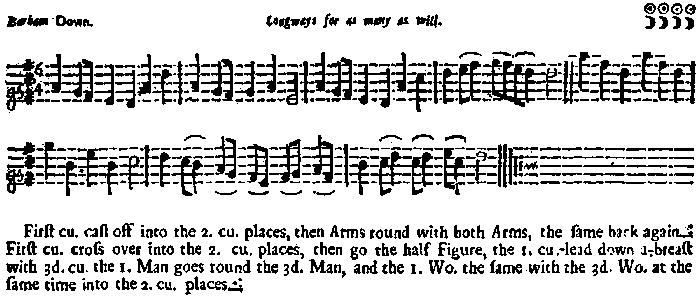 Music & notation for Barham Down, as published by Playford in 1701
See Robert M Keller's Illustrated Compendium.
Nowadays it is often danced following Tom Cook's interpretation as given in his booklet "Come Let's Be Merry" (EFDSS 1975). However, this involves changes from the Playford text, and his movements for the A music can get a bit hectic unless the music is played at a gentle pace.
I feel that the interpretation given below keeps more closely to the Playford, and it can be danced to faster paced music.
Formation
Duple minor (proper) Folk dance
The Playford version is a triple minor. Dancing as a duple minor involves no changes at all to the figures given by Playford, just who performs the movements with the working couple during the B2 music. It makes the non-leading couples more active, which better matches modern expectations.
Music
There is a very lively track on the album "English Country Dances" by the band Bare Necessities. Originally issued as an LP, this is currently available as a CD, for example from Amazon, or the track can be sampled, purchased & downloaded from iTunes.

Here is a slightly less lively alternative:

A score and midi verion is available at abcnotation.

Note that the music is in 6/4 time (triple time), and dancers take 3 steps to each bar.
Notation
bars
A1 1‑2
1st couple cast down to 2nd places, as 2nd couple move up,
3‑4
1st couple two-hand turn once round.
A2 1‑2
2nd couple cast back down, as 1st couple move up,
3‑4
2nd couple two-hand turn once round.
B1 1‑4

1st couple cross straight over, cast down and half figure-of-8 up through their 2nd couple,
to finish facing down in the centre of a line of four with the next 2nd couple below on each end of the line.

(The 1st couple have only 12 steps for this)

Once 1st couple has passed up through them and started to move down the outside, 2nd couple move up and face down individually ready for next 1st couple above to join them.

B2 1
Lines lead down,
2
lines fall back up;
3‑4
1st couple gatepost ¾ around new 2nd couple to progressed places.
It is important that the 2nd couples move up during B1 3-4; if they do not, then the whole set drifts down the hall!
Sources
Playford (pub.), 1701
Tom Cook, "Come Let's Be Merry", EFDSS 1975
Graham Foster, September 1985